Additional Marketing Exposure is vital
In addition to the China online branding strategy and good technology infrastructure, Compass Edge offers B2C marketing which is the last piece of the puzzle in delivering results for independent hotels through GoHotelsGo.
GoHotelsGo Travel Alliance Platform
GoHotelsGo is a registered company under Compass Edge. While Compass Edge is a service provider for independent hotels (B2B), GoHotelsGo is a travel alliance platform that markets and promotes Compass Edge member hotels.
GoHotelsGo is positioned as an authentic experience lifestyle platform that connects travelers who love independent hotels to Compass Edge's fine collection of Hotels & Resorts worldwide.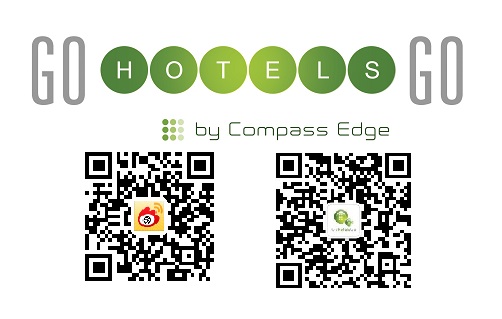 Unique features for our independent hotels
1. B2C English website inclusion under GoHotelsGo.com
All Compass Edge hotels will be categorized under Luxury, Deluxe or Value category with a 140-character "Edge statement" that highlights the unique selling points of each hotel. This helps to match up the target audience with the right choice of our independent hotels.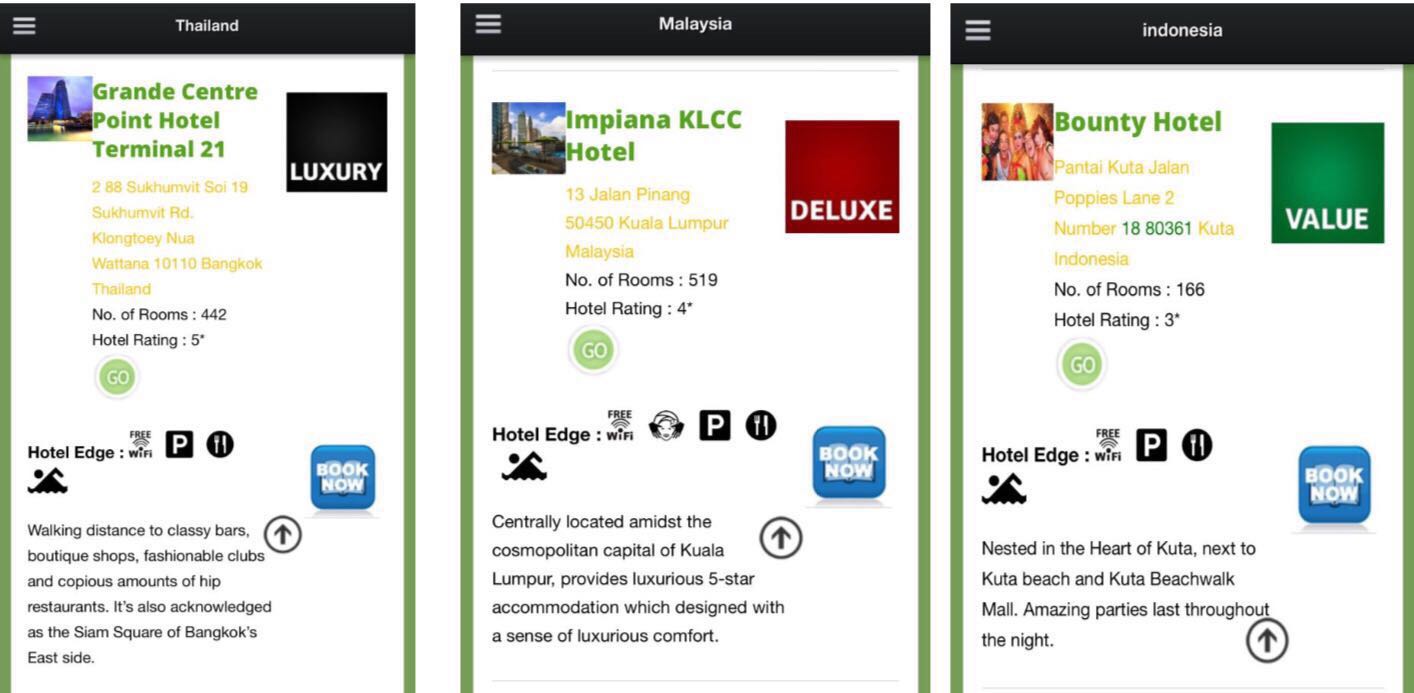 2. B2C Chinese website inclusion under GoHotelsGo.com.cn
Since Compass Edge is a niche player for the China market, we will translate the basic information and "Edge statement" of each Compass Edge hotel and list them on our Chinese travel portal.
All Compass Edge "Go China" hotels will be featured under the "China Ready Hotels" section of our website GoHotelsGo.com.cn and we will select and recommend these hotels in our Chinese marketing initiatives.

3. Email marketing campaigns
Each month, Compass Edge runs various marketing campaigns to our opt-in loyalty members base to promote our hotels through tactical promotions (e.g. early bird, stay promotions, etc.) and / or soft-sell branding campaigns (e.g. Asia Local Delicacies, Top 10 Asia Markets, etc.).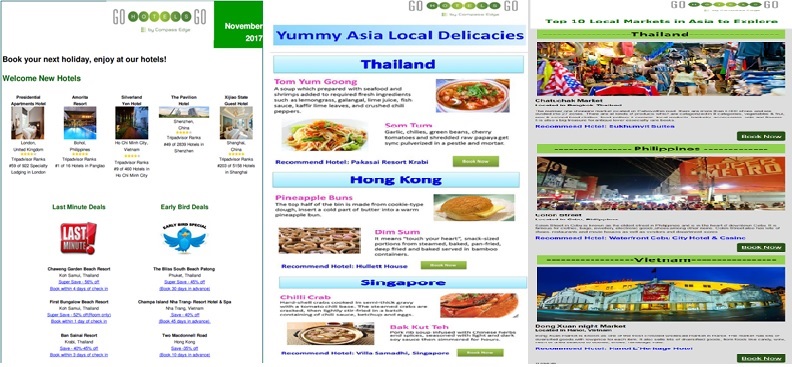 4. Daily Facebook and Twitter posting opportunity with GoHotelsGo
The Compass Edge marketing team pushes out 60 social media posts a month on Facebook and Twitter, ensuring that your hotel is constantly on top of the mind of potential guests.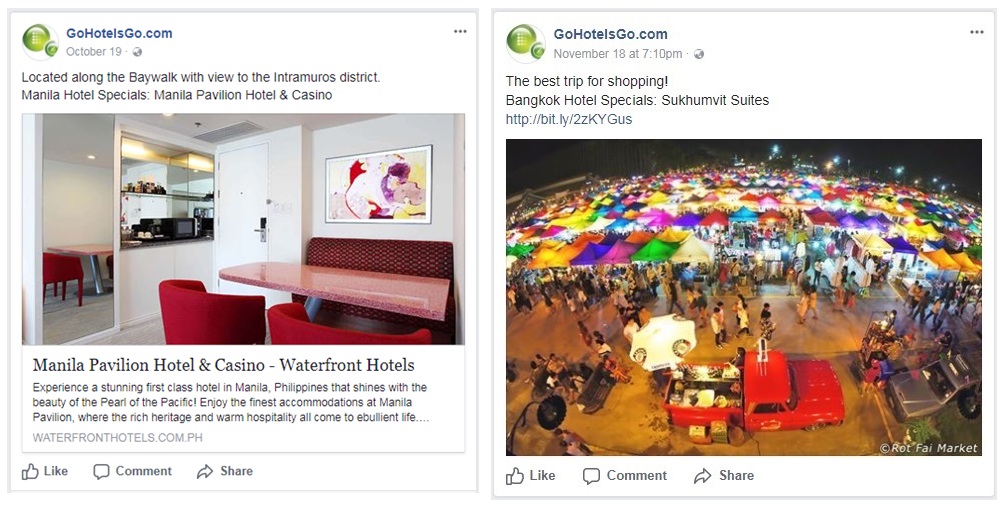 5. GoHotelsGo Weibo posting & Marketing Campaign opportunity
Similar to FaceBook and Twitter, we post our hotels promotions on Chinese social media platform Weibo. Besides, GoHotelsGo is a verified account on Weibo and we run monthly marketing campaigns to boost followers for our Go China hotels.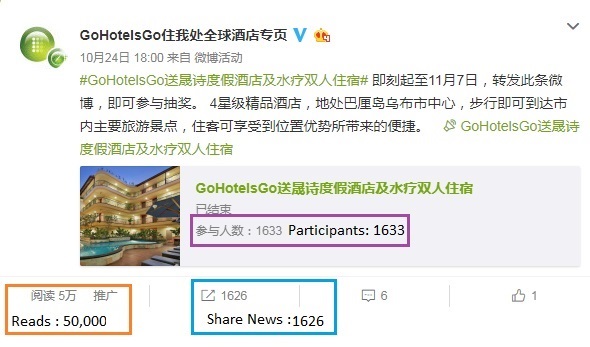 6. GoHotelsGo WeChat weekly blogging articles featuring opportunity
GoHotelsGo is an official Service account on WeChat and we have hired bloggers to publish weekly lifestyle articles that soft market our Go China hotels. Through this very active engagement with Chinese FITs on WeChat, we help our independent hotels around the world to gain trust and awareness from the booming Chinese FIT target audience.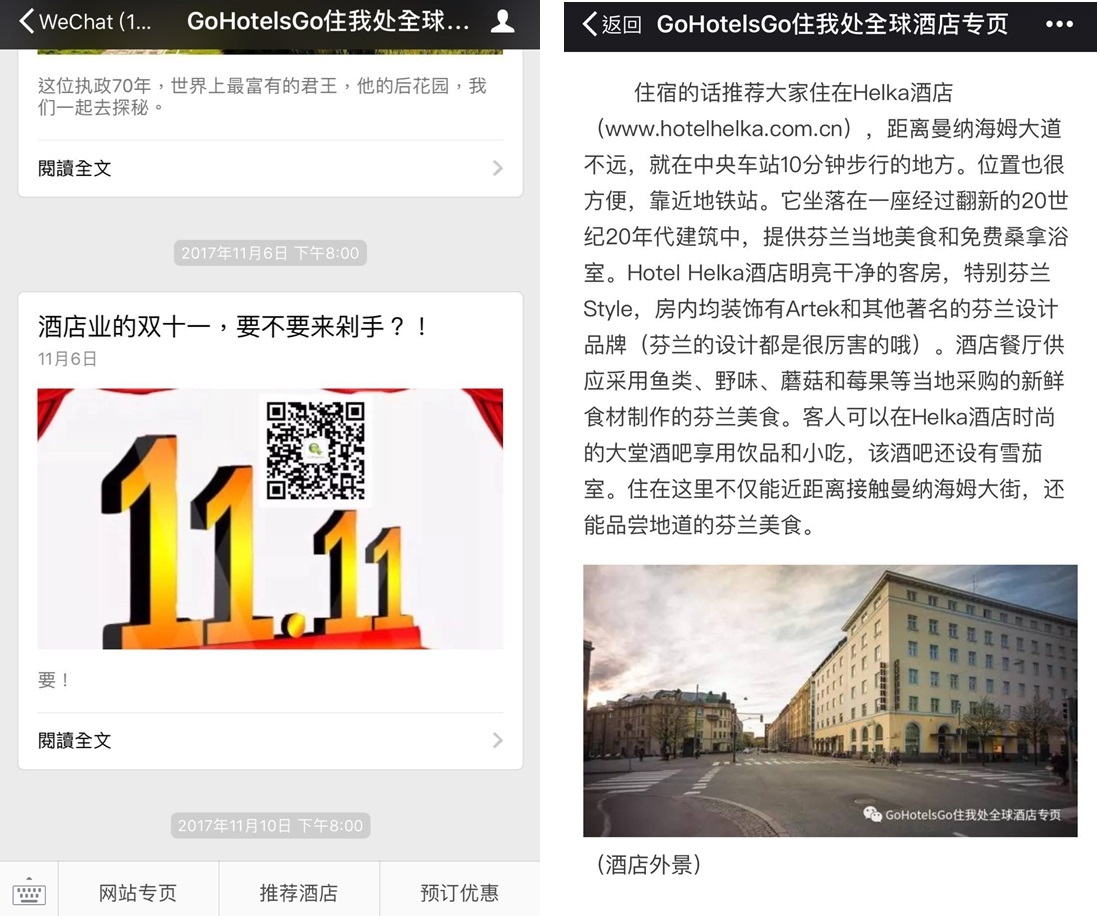 *** Compass Edge also works with KOL (Key Opinion Leaders) on different marketing campaigns designed to attract more Chinese viewers. ***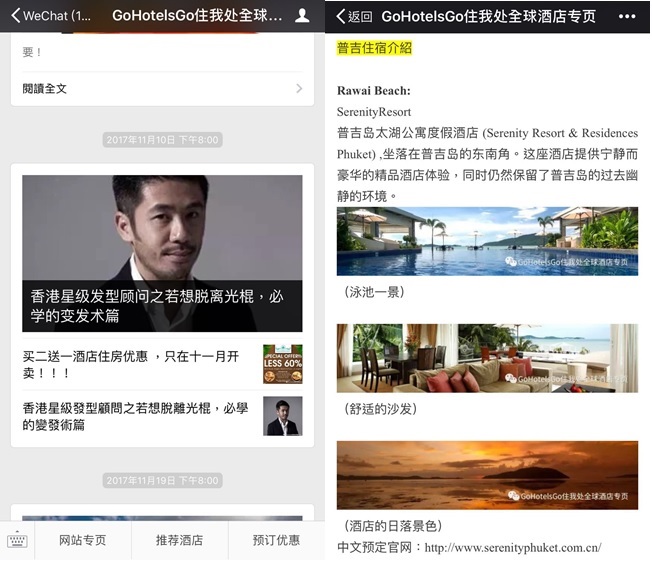 7. GoHotelsGo WeChat official account hotel listing
With our GoHotelsGo WeChat official service account, all Go China hotels will have a "store front" listing. It is impossible for a non-Chinese company to get a WeChat account without going through an agency, a very expensive and time consuming process. This makes our GoHotelsGo service the easiest and most effective way to to get a valuable WeChat presence that reaches China's FITs.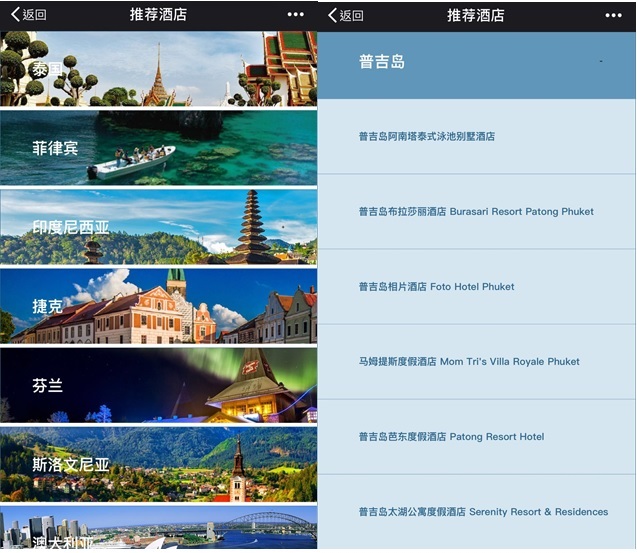 8. Chinese Travel Fair Exhibition Marketing opportunity
In addition to online marketing, Compass Edge understands that hotels also need offline exposure to break into the highly complex China market. Compass Edge exhibits at China (Guangzhou) International Tourism Industry Expo and showcases our clients to Chinese FITs and media.

9. Target China's most valuable Loyalty Members
GoHotelsGo by Compass Edge signed an alliance partner agreement with Ling Nan Hospitality in September 2017, along with China Southern Airlines and GZL Travel Services, to open up cross-sell opportunities to our combined loyalty members.
GoHotelsGo is responsible for certifying and recommending China Ready Hotels around the globe to frequent travelers in China through this travel alliance platform.