3 Major Misconceptions about getting Direct Hotel Bookings from China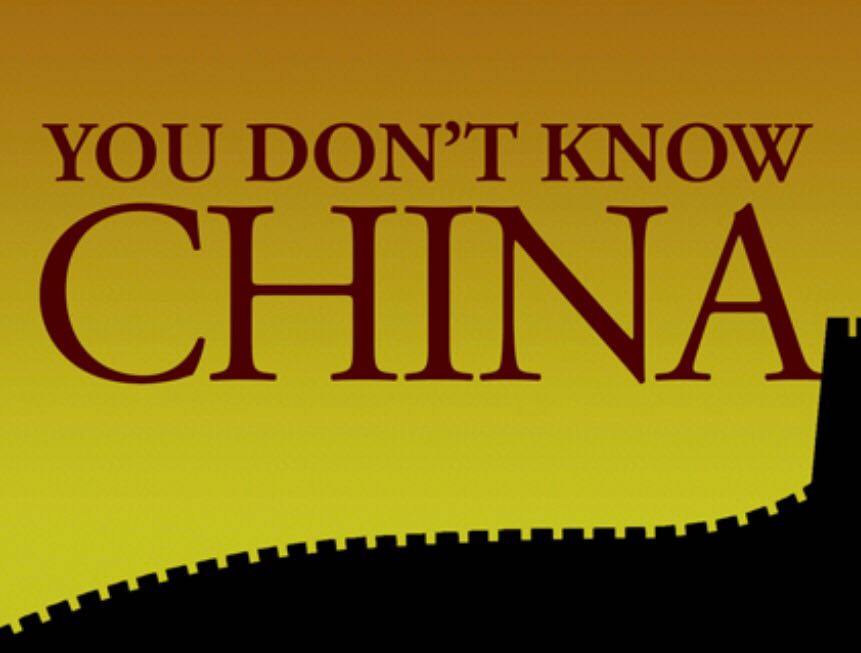 By now, I believe even the smallest or most isolated independent hotels will have seen some Chinese independent travelers staying or venturing in your area and according to COTRI, outbound Chinese tourism is forecasted to grow 10% in 2018.
When we speak to hotels about China online branding solution, many hotels are purely looking to get direct bookings from China to justify the investment. As an ex-hotelier and from the western world, I certainly understand where they are coming from. However, it is important to note that entering the Chinese market should be a long term strategy and quick win is almost non-existent even with a huge budget and looking to get direct Chinese bookings right away may be disappointing to most.
Below are three (3) misconceptions about getting direct hotel bookings from China.
"China has 1.3 Billion in population so getting just some direct bookings from China should be a piece of cake." – WRONG
Yes, China is huge but this is why targeting the Chinese market becomes extremely complex and costly. Based on Infographics (Credit source: Visual Capitalist), each of the 35 Chinese cities below have a GDP that is equivalent to an entire country. Imagine the marketing budget you need to reach and target 35 countries. Getting direct bookings for an independent hotel is like finding a needle in the haystack if without a proper China strategy.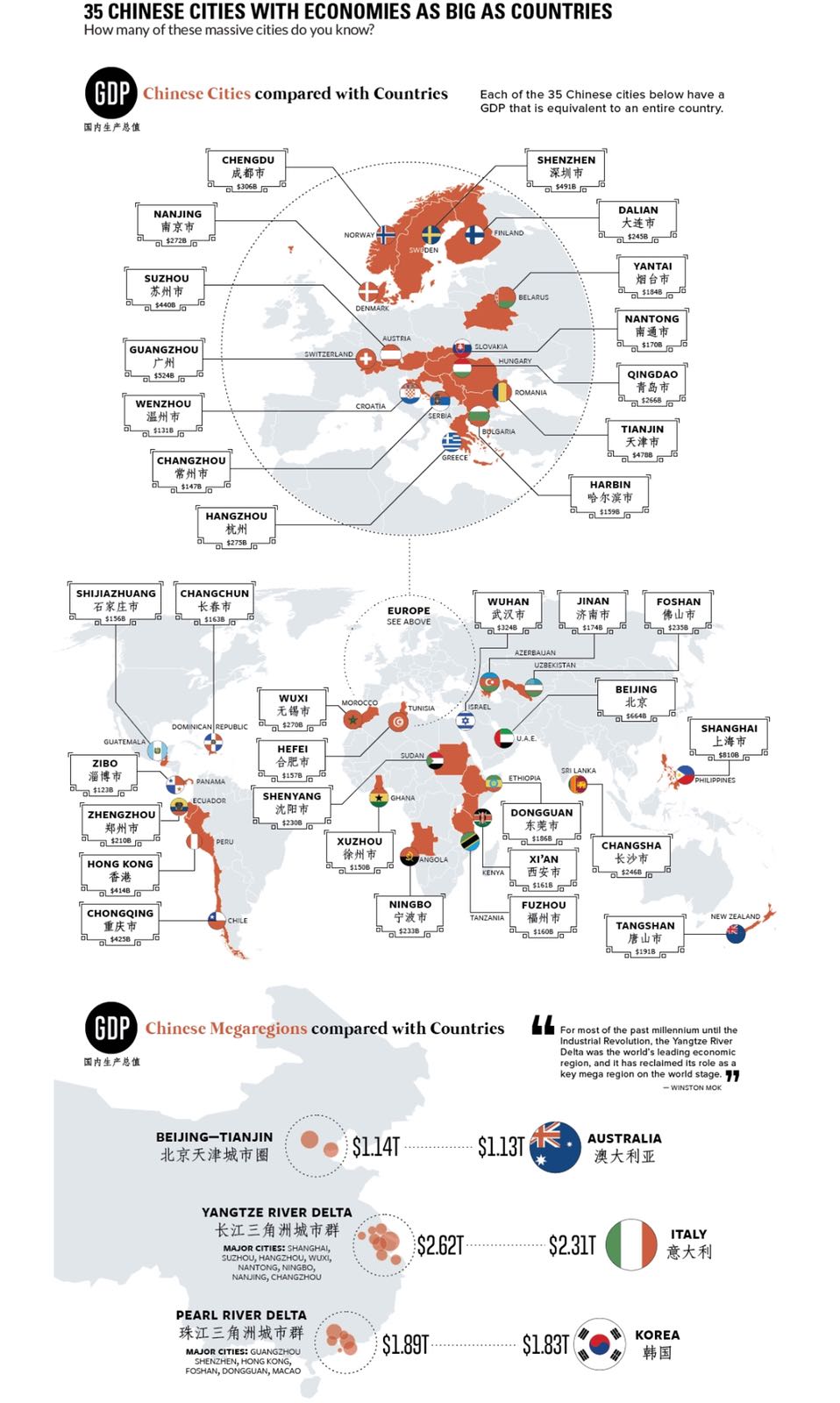 2."Stuff 'Made in China' is everywhere. So marketing or getting direct bookings from China must be very cheap in China." – WRONG
I am not an Economic expert and do not want to discuss the 'Made in China' phenomenon. Nonetheless, if any companies offer you a cheap online solution for China, I urge you to think over and over. We learnt from experience that everything costs (& costs a lot) for overseas companies to do things properly in China.
Say you hear so much about WeChat and want to set up an official account. According to China Channel, it will take around 20K Euro marketing budget commitment to open China Visible Official Account. "China Visible" is key here as some companies may offer you an overseas WeChat account which cost basically nothing but that account will not be visible in China hence not helping at all to break in the China market. There are many "cheap" solutions offered in your countries locally that do not even provide you with China Visible presence.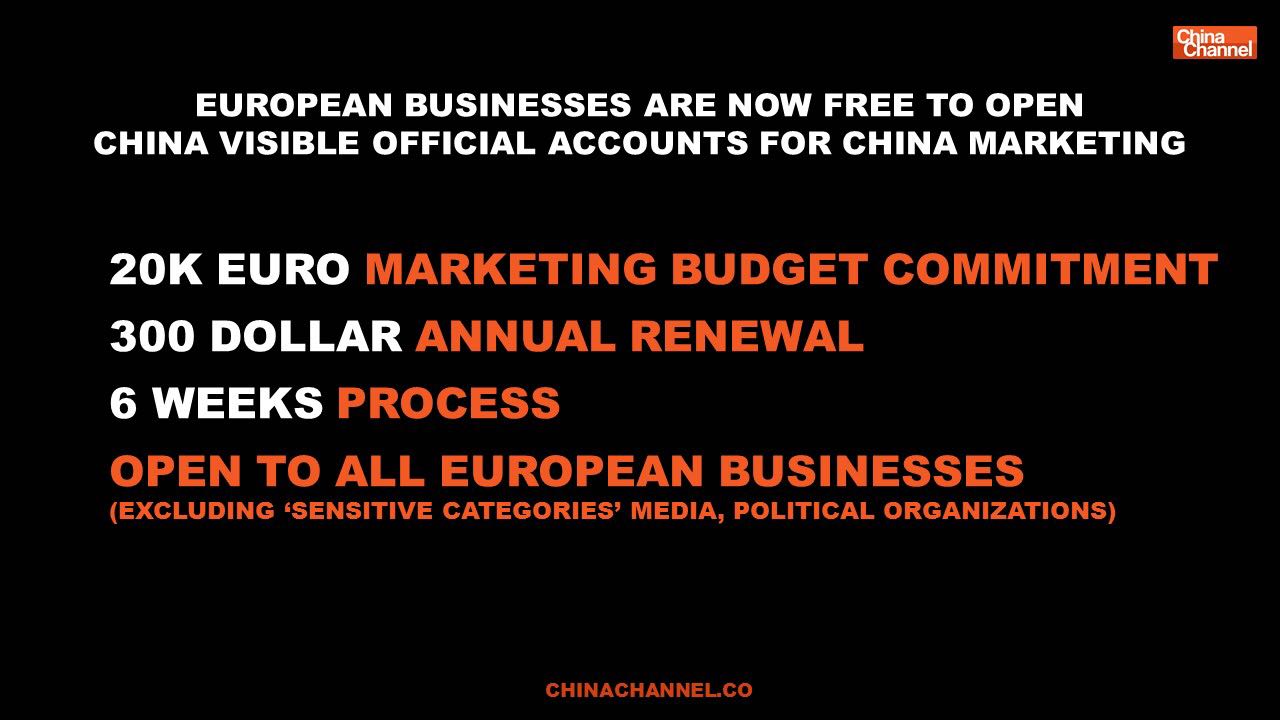 And now, you hear about KOL (Key Opinion Leaders) and how great they are to promote and direct sell products and wish to engage them. So, let's take a look at their costs. For example, Tong Dao Da Shu, a famous blogger, charges about USD45,000 per WeChat article (yes, one article). For KOLs with fewer with million subscribers, they usually charge around USD13,000 per article. (Credit source: Forbes). These are the real costs to reach real Chinese.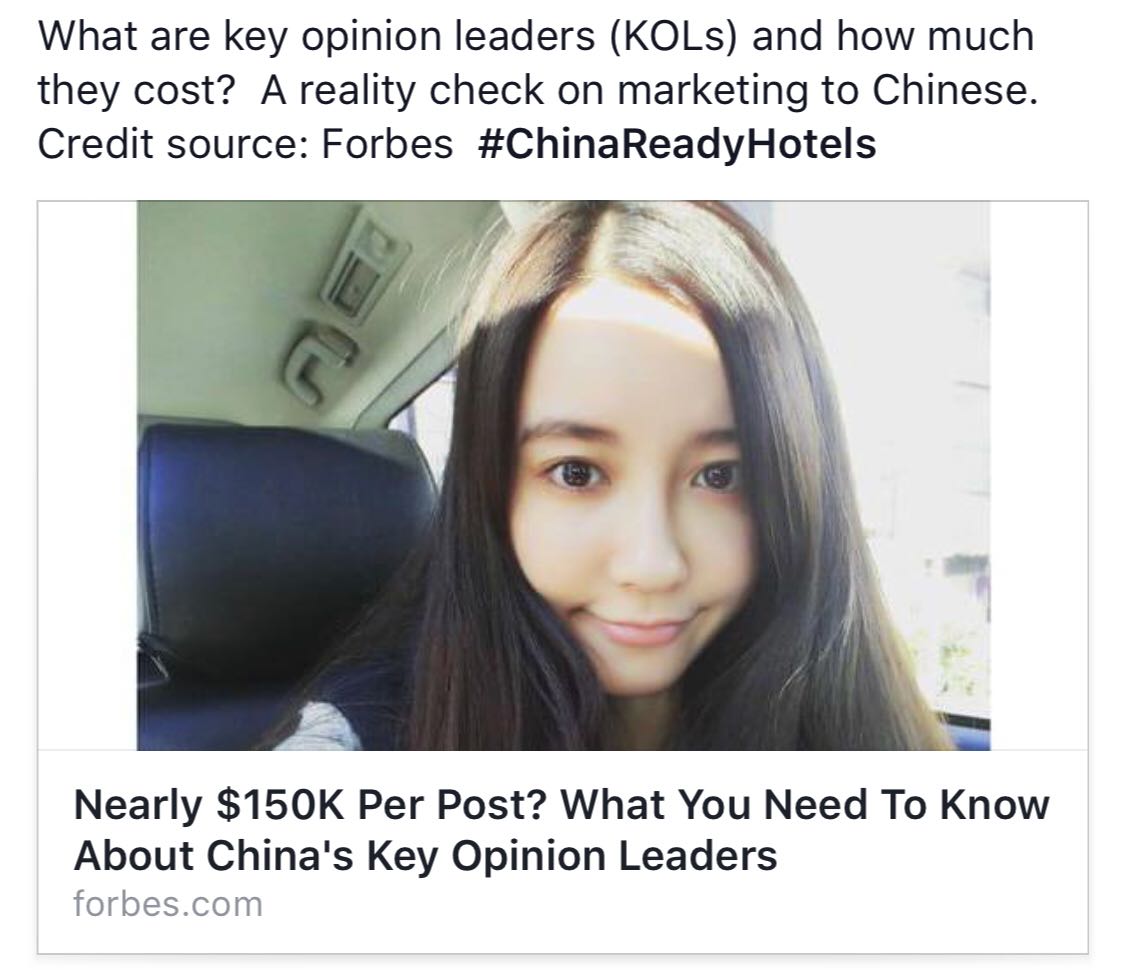 3."My hotel is selling at rate parity across all platforms so bookings should come direct as opposed to OTAs." – WRONG
There are two dimensions to this. First, do you know the dominant China OTA Ctrip can sell your offline tour operator rate on its site? Are you really selling at rate parity? Take a look here. It is with obvious reasons why China bookings go to OTAs like Ctrip and such and not direct.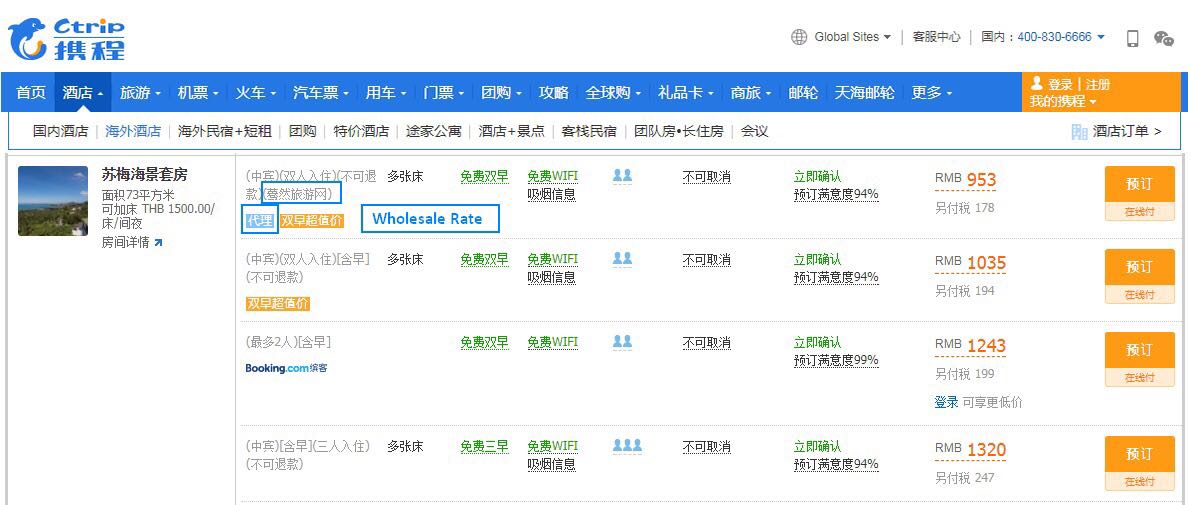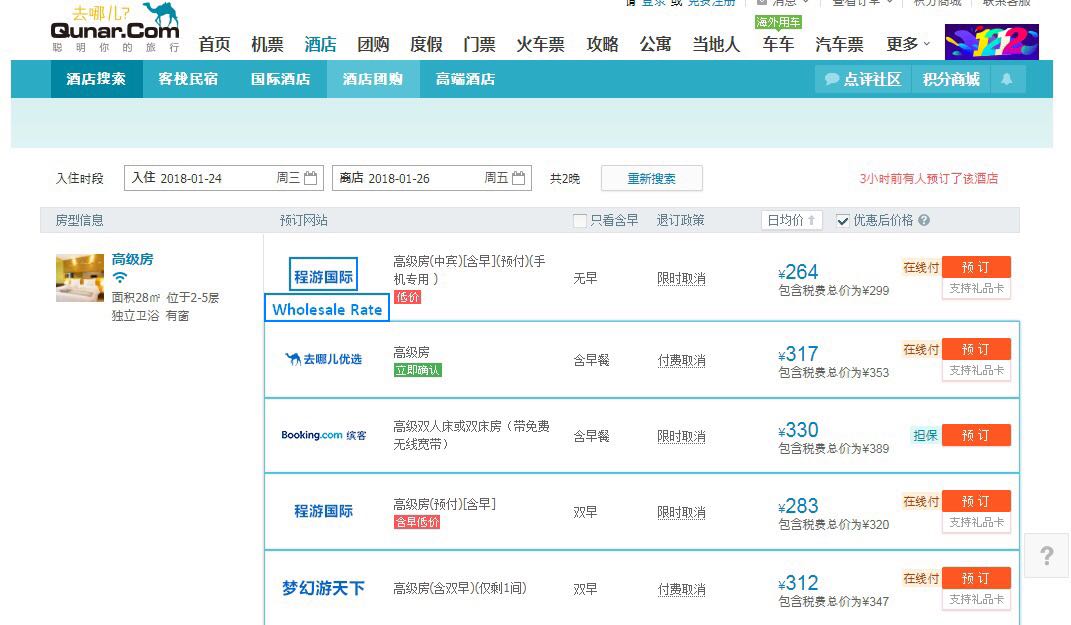 Next, based on EyeForTravel's new Chinese Travel Consumer Report 2017 – 2018, there is a marked contrast between Chinese and Western markets as more than 70% of Chinese digital bookings are made through OTAs.
Why? In addition to the fact that Ctrip is a household brand that I would say every Chinese netizens know, Ctrip and its rivals in China are very advanced in technology and focus in ABC (AI, Big data & Cloud computing) and the UX (user experience) is excellent. Besides, online is not purely online in China.
Ctrip has opened thousands of offline franchise stores across 23 provinces and municipalities in China to provide 24/7 customer service in any forms Chinese like, at the lowest possible price it can find anywhere. Hence, just providing even a parity rate on your website does not help to change Chinese booking habits to book via OTAs versus direct.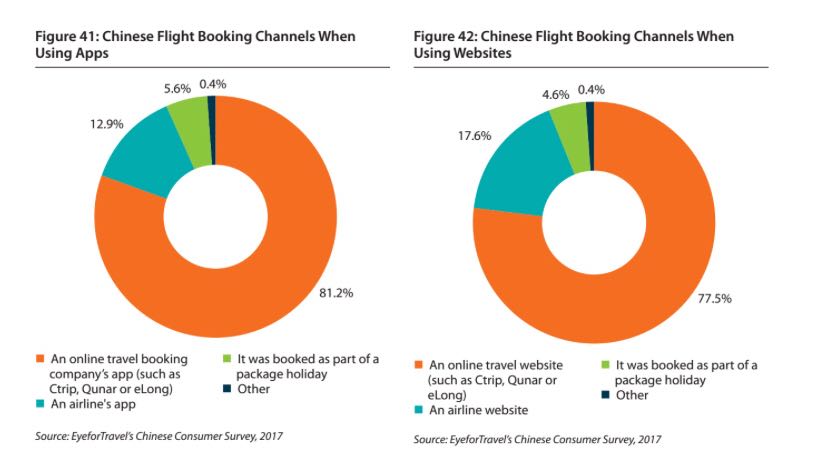 Now, you ask me, then why bother to establish an online branding presence in China at all if you are telling me there will not be direct bookings, at least not right away?
Let's look at The Chinese Traveler's Journey in the ballpark.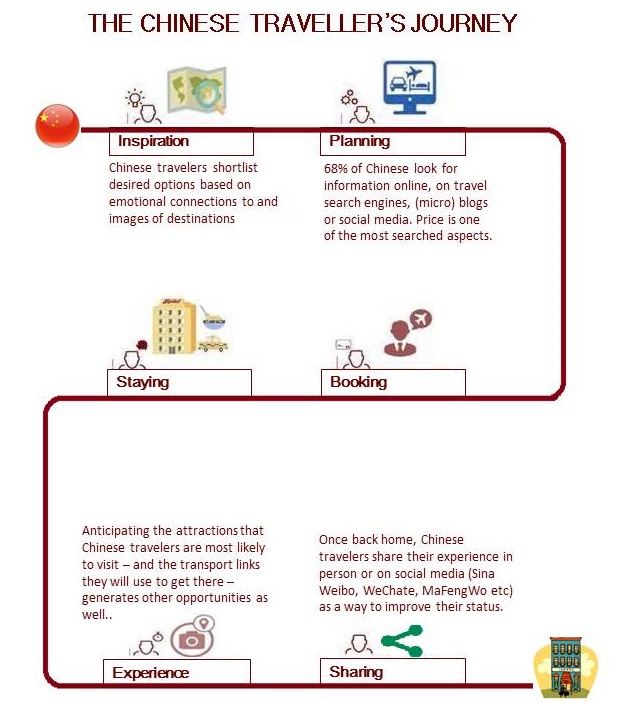 At the end of the day, there are still hundreds of hotels in your destination or at least a handful of competitors nearby. How will independent Chinese travelers choose which hotel to stay depends on "Inspiration" and "Planning" part of the journey.
If your hotel has real online branding presence and comes up during these stages such as on travel search, (micro) blogs or social media and such, your hotel will be steps ahead of your competitors and bookings are bound to come in whatever booking channels Chinese choose.
Yes, it is not easy for an independent hotel to break into China online world but I will say China strategy is a well worth strategy to start sooner than later as it will get even more difficult and more expensive down the path. If you believe in the China market, if you invest little by little now, it will be rewarding in years to come.
Tags: Misconception about China; Direct Hotel Bookings China; China Branding Solution
Compass Edge is a company offering online solutions to independent hotels. It is a niche service provider offering cost-effective branding solutions for overseas hotels to establish an online presence for the booming Chinese FIT market. It can also provide customers with an Internet Booking Engine, meta-search integration, GDS distribution and Channel Manager in its portfolio of solutions.
This article was written by Anita Chan, CEO of Compass Edge. Anita has extensive travel industry experience, and has worked all over the world with leading companies such as Four Seasons Hotels and Delta Hotels, as well as in corporate offices and technology service providers. Before joining Compass Edge, Anita worked as Regional Director for a leading OTA in Asia, as Global VP for a leading digital agency, and as VP Asia Pacific for Small Luxury Hotels of the World.