COMPASS EDGE WINS AWARD AS TOP TRAVEL & HOSPITALITY SOLUTIONS PROVIDER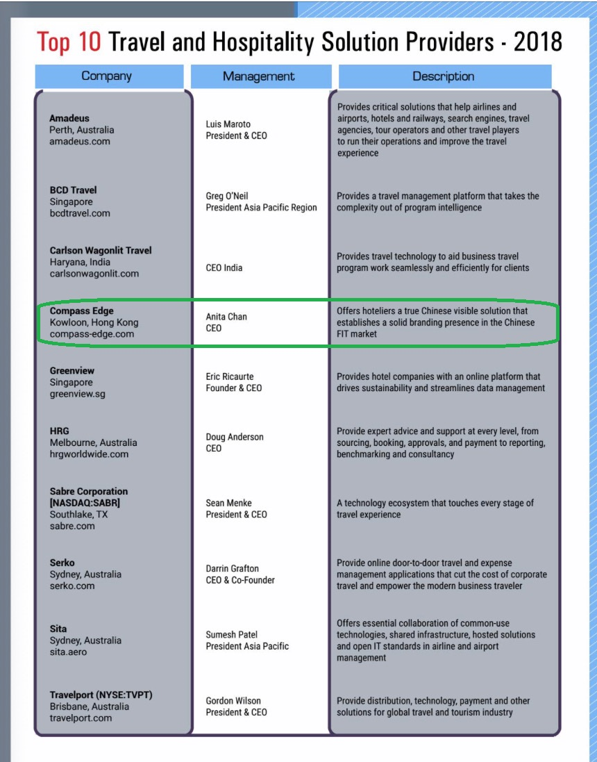 (10 December 2018) – Compass Edge, a Hong Kong-based company that offers hotels around the world with bespoke solutions to improve their branding within the extremely lucrative Chinese market, has been named as one of the world's Top Travel & Hospitality Solutions Providers.
In a recent issue, APAC CIO Outlook listed Compass Edge as one of just ten leading companies, alongside well recognized and respected heavyweights such as Sabre, Amadeus, Travelport and Carlson Wagonlit, that they recommend as a top travel and hospitality solutions provider.
Anita Chan, CEO of Compass Edge, said, "After so much hard work has gone into establishing the company as the go to provider for hotels to gain greater brand awareness with Chinese travelers, it is extremely pleasing to win such a prestigious award and be listed amongst some of the greatest companies within the travel industry."
Compass Edge was founded in 2008 and has since worked with over 500 hotels to improve their presence within the complex Chinese marketplace.  By providing a responsive website which is hosted in China on a dedicated Alibaba cloud server, Baidu Search Engine Optimization (SEO), Weibo social media account set-up and maintenance, inclusion in Compass Edge's Chinese website, B2C travel portal GoHotelsGo, plus WeChat official service account, and participation in marketing campaigns as well as within bloggers' and Key Opinion Leader's (KOL / influencer) articles, it is now easier than ever for hotels, whether independent or not, to reach Chinese travelers who are looking for a property in that area.
"Targeting Chinese travelers is not easy, and a lot of hotels have a very hard time understanding just how different their marketing strategy needs to be to make even the smallest impact," said Ms. Chan. "We understand their frustration and that's why Compass Edge and our Go China solutions have proved so popular with hotels in Europe, Asia Pacific and elsewhere, because they finally have a partner who can do it all for them, just as a local hotel would do."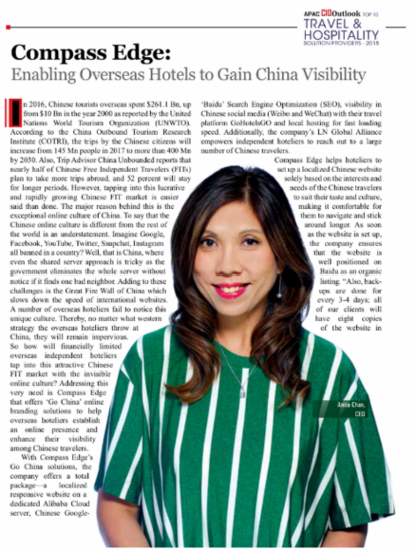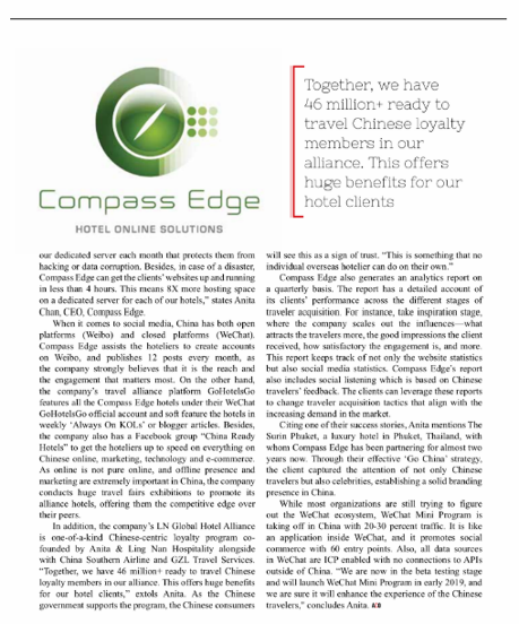 To add to the many advantages of working with Compass Edge, the company partnered Ling Nan Hospitality in March of this year to establish a new alliance, which together with partners China Southern Airlines and GZL Travel Services, gives the four brands access to more than 46 million Chinese travelers.
"LN Global Hotel Alliance is one-of-a-kind," Ms. Chan said. "All 4 pillars - Ling Nan Hospitality, China Southern Airlines, GZL Travel Services and Compass Edge - are 100% complementary to each other, with no overlapping and no conflict of interest."
The LN Global Hotel Alliance already has more than 100 founding hotel members in over 13 countries and 30 cities.
"And that's not all," adds Ms. Chan. "Compass Edge will soon be launching a WeChat Mini Program, which makes use of AI, Big Data and Data Analytics to make our solutions even more effective for our valued clients. I do not want to give away too much right now, but all will be revealed in early 2019 and I can tell you that the initial tests we have conducted are incredibly exciting. I can't wait and I look forward to sharing this with you in just a few months."
Compass Edge offers online solutions to independent hotels around the globe. It is a niche service provider offering cost-effective branding solutions for hotels to establish an online presence targeting the booming Chinese FIT market. As one of the co-founders of LN Global Hotel Alliance, Compass Edge is the exclusive partner to sign up overseas independent hotels for LN Global Hotel Alliance.
Read the interview here: https://travel-and-hospitality.apacciooutlook.com/vendor/compass-edge-enabling-overseas-hotels-to-gain-china-visibility-cid-3569-mid-186.html